As she winds down a legal career spanning half a century — the last 26 years of it as the only Black jurist on the Louisiana Supreme Court — Chief Justice Bernette Johnson is ready to turn her focus inward.
"The goal first is to figure out what retirement's all about. I've been working so many years, I'm going to try to figure out what people do who don't work," she said, adding about her waning days in office, "As far as I'm concerned, it's a wrap. I can't think of anything else I need to do or say."
The normally reticent Johnson has made a point of saying a lot in her final year on the court where she's served since 1994, including the last seven years as the state's first African-American chief justice. It's a title she won only after a bare-knuckled court fight.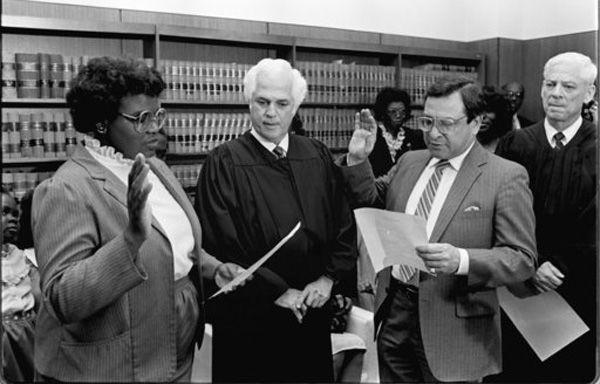 Johnson is 77, well past the constitutional age limit of 70 for Louisiana judges, and will be succeeded in the 7th District by Piper Griffin, who, like Johnson, is a Black woman who vaulted to the high court straight from Orleans Parish Civil District Court. John Weimer will be the new chief justice.
A Louisiana Supreme Court candidate just won the runoff by default; here's why
Johnson's impending departure comes amid a cultural and political eruption across the U.S. over violence and institutional racism against Black people. She said the police killing of George Floyd has "compelled" her to speak out.
She'd done so with force.
In recent months, Johnson has penned scalding rebukes of Louisiana's racist history; its endurance in Jim Crow laws that have bloated the state's prison rolls, mostly with Black people; and what she views as a need for judges and lawmakers to recognize their roles in perpetuating that legacy.
Some of those excoriations have come in lonely dissents on a court now comprised of Johnson and six white men. Others have come in public letters and speeches. In recent years, Johnson has also been the court's lone woman and Democrat.
In a June letter to colleagues, Johnson urged them to "acknowledge with me the part we each play in maintaining a system that leaves many of our fellow citizens, especially our African American citizens, feeling that they cannot breathe."
She went on: "Of course this is not our intention, but our benign and noble motivations do not matter to those who feel our criminal legal system is suffocating them."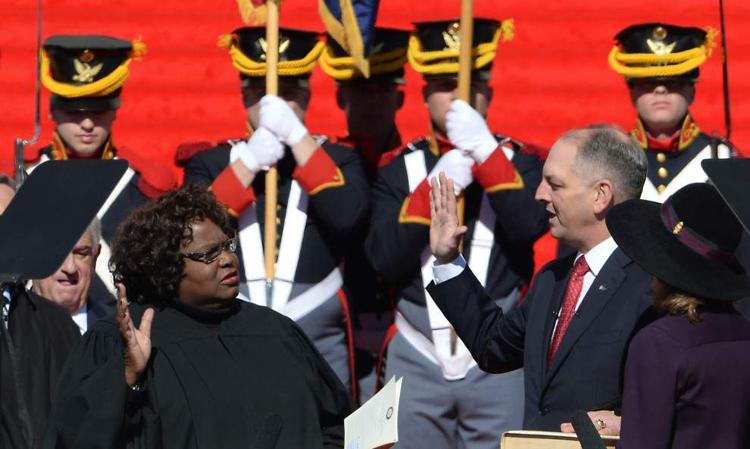 In a rare media interview this month, Johnson echoed that theme, while discussing her own place in a court system that has often failed to fix the historic injustices she has cast in reproach, until forced to do so by federal courts.
"Look, I did all I could do," she said. "What the court will do in the future, I'm going to leave it to them."
Johnson cited numbers showing that Black people make up 85 percent of young people in Louisiana's adult prisons as well as 85 percent of those serving sentences under the state's stiff habitual-offender law. Another ugly stat: Black children in Louisiana are seven times more likely to land in juvenile detention than White kids.
"Some folks can look at startling numbers like that and not be ashamed or embarrassed. It's kind of like, they don't have a conscience. They sleep all right at night," Johnson said. "So you get to the point, well, I'm trying to get folks in Louisiana to understand – and I have been for I don't know how many years — that we are an impoverished state because we waste too much money locking people up."
Louisiana Supreme Court chief justice raises alarm about funding for public defenders
Johnson attended segregated public schools in New Orleans before going to Spelman College in Atlanta and then LSU Law Center, where in 1969, she became one of the first two African-American women to graduate.
She started out as a law clerk for Ernest "Dutch" Morial before advocating for low-income clients as managing attorney of the New Orleans Legal Assistance Corporation, or NOLAC. When Morial became mayor, Johnson served as deputy city attorney for three years until 1984, when she won a judgeship at Orleans Parish Civil District Court.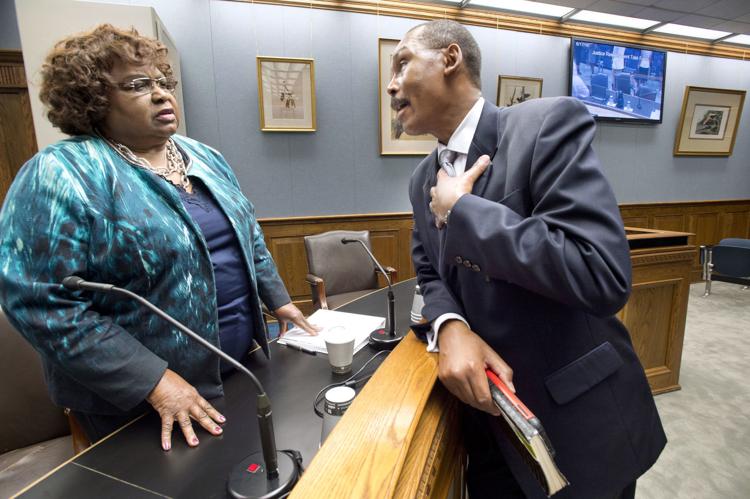 She stayed there for a decade until the Civil Rights Act of 1965 helped propel her to the high court decades after its passage. In 1994, Johnson claimed the "Chisom seat" — a temporary 8th Supreme Court seat fashioned in a court-approved settlement over a challenge to how Louisiana justices were elected.
Two of the court's seven seats had been allotted to New Orleans and its suburbs, and at the time of the challenge, no Black justice had ever won either of those seats despite the city's majority Black populace. 
The settlement split the two seats geographically. Revius Ortique Jr. of New Orleans became the court's first Black justice in 1992 and retired in 1994, when Johnson won office.
The two other justices served out their 10-year terms and Johnson assumed the 8th seat, named for a plaintiff in the legal challenge. In 2010 she would claim what is now District 7, which includes mostly Orleans Parish and a bit of Jefferson Parish. 
The arrangement would stir a racially-charged court battle almost two decades later, with Johnson squarely in the crosshairs, when Chief Justice Catherine "Kitty" Kimball announced her retirement in 2012.
Justice Jeffrey Victory argued that he had the seniority to succeed Kimball as chief justice, saying Johnson's six years in the Chisom seat didn't count, as it was technically an appeals court seat on assignment with the Supreme Court.
Some justices allegedly met behind Johnson's back to conjure new court rules for picking the next chief justice. Johnson sued, and a federal judge took the decision out of the court's hands, ruling that she had the seniority.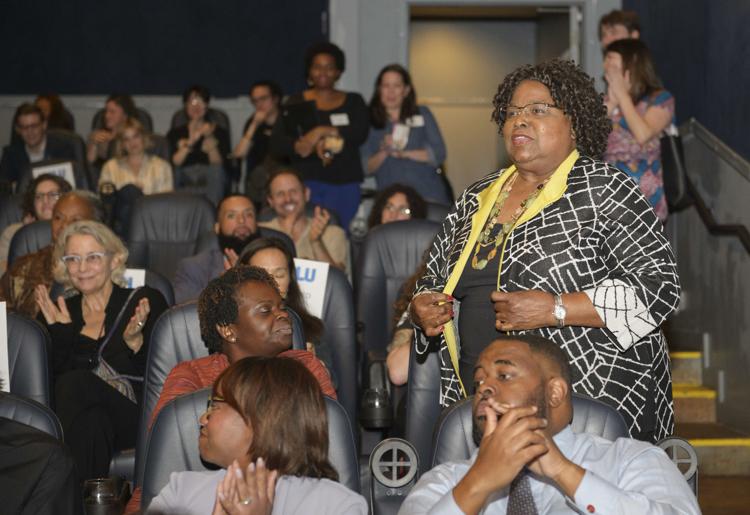 Bill Quigley, a Loyola Law School professor who fought for Johnson along with voting rights attorney Ron Wilson, said she approached the attack on her seniority "with great grace, but totally firm," despite the tone.
"I think everybody involved felt this was certainly institutional racism and an attempt to put the clock back," Quigley said. "I never heard her call anybody a racist or say that the court was racist, but it was clearly a slap in the face of civil rights and equality and justice. She never personalized it."
Johnson suggested that she brought that same approach to the bench.
"I'm the kind of person, I'm going to get up and do my job every day. I will work with whoever I have to sit at the table with. I'm not trying to change anybody," she said. "I've got to say what I need to say and then, you know, we're done with it. I'm finished with it."
Johnson said she has yet to dwell on the arc of her career or shifts on the court since she began, describing it as material perhaps for a future memoir.
But she hasn't been shy lately about tracing the historical roots of the state's nation-leading incarceration rate to Jim Crow laws like the non-unanimous jury rule that the U.S. Supreme Court abolished prospectively this year — after Louisiana voters did the same in 2018.
That law was enshrined at a convention of openly racist delegates with an explicit aim to rid Louisiana's voter rolls of Blacks, state historical records show.
"The public, it sees that you can convict someone with a 10-2 verdict. But they don't know the horror story behind it," Johnson said. "And you've got to remind people, this is 120 years of racism, and it's deliberate racism," she said.
The U.S. Supreme Court is considering now whether to make its ruling barring split verdicts retroactive, a step that would upset as many as 1,600 Louisiana convictions, including those resulting in life sentences for nearly 900 inmates.
Louisiana Supreme Court sends scores of split-jury cases back to lower courts
In a recent dissent, Johnson argued that if the federal courts declined to apply the ban retroactivity, Louisiana courts should do it anyway.
Meanwhile, Johnson said she's received notes from judges as far away as New Zealand for a dissent she wrote in July that drew international media attention around a life prison sentence handed to a habitual offender, Fair Wayne Bryant, over a failed theft of hedge clippers.
Johnson traced Louisiana's modern habitual offender statutes to post-Reconstruction "Pig Laws" intended to criminalize free Blacks through extreme sentences for petty crimes.
A Louisiana man is serving life after stealing hedge clippers. The state Supreme Court won't review his case.

Johnson, however, was alone in that dissent; her colleagues upheld Bryant's conviction and sentence as valid, though a state parole board released him in October.
"Don't just look at the prison population in Louisiana. Ask why. Why did the legislature pass the habitual offender statute? Why is it that some district attorneys choose to use it in every case?" she said in the interview over Zoom.
Louisiana Supreme Court chief justice says new law on felons voting doesn't go far enough
She said her thoughts these days are less on her opinions or the dynamics of the court than they are on broader concerns over the virulent racial and political divisions at play across Louisiana and the U.S.
"I feel we have a generation of young people and lawyers energized and – what do they call it? — 'woke.' They want to do something about all the injustices that they see. So that's encouraging," Johnson said.
"We just have to come to that point in America that we aren't killing Black men on the streets; we're not going to have another George Floyd where someone's kneeling on his neck for eight minutes; Black folk can sleep at night without worrying about somebody breaking through the door with a no-knock warrant," she added.
"I'm hoping we'll get to that in future years. I've been at this 50 years now."